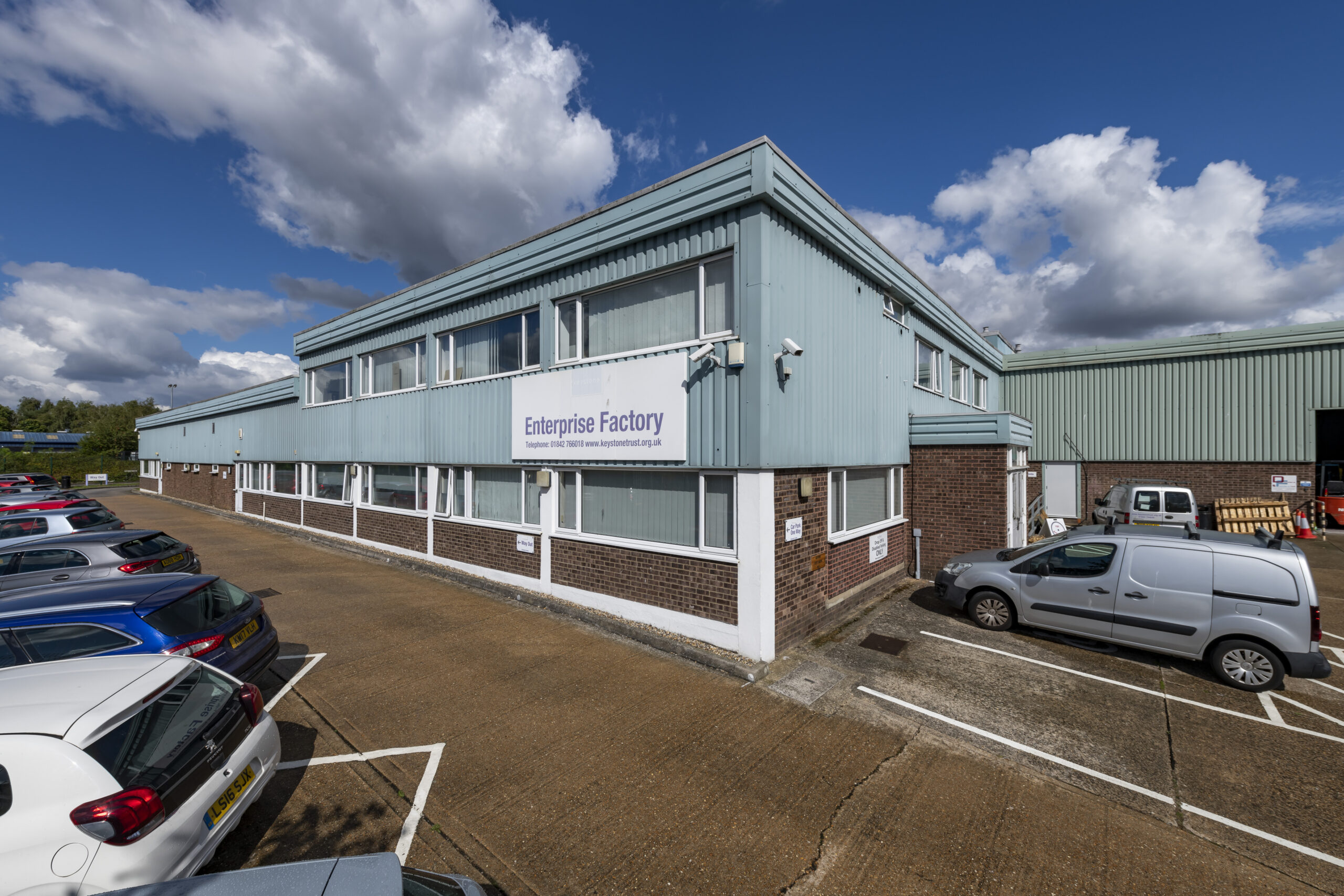 Keystone Enterprise Factory, Thetford
INVESTMENT SUMMARY
Multi let income producing commercial building providing ground floor workshops and first floor offices.
Site area of approximately 0.83 acres (0.336 hectares).
Ground floor area of approximately 20,354 sq ft (GIA) with first floor of approximately 1,553 sq ft. Total area approximately 21,907 sq ft.
Secure car park providing 34 spaces.
Gas central heating in offices with workshop units provided with wall individual Reznor gas burners.
Air conditioning in some offices.
Rental income on completion of sale of approximately £83,160 pax with potential to increase to approximately £89,200 pax, or greater, when fully income producing.
Offers sought in excess of £895,000 (Eight Hundred and Ninety Five Thousand Pounds) exclusive of VAT for the freehold interest.
LOCATION
Thetford, situated at the centre of the Cambridge Norwich Tech Corridor https://www.techcorridor.co.uk/ has a population of approximately 24,340 (2011 Census) with over 250,000 people within a 30 minute drive time.  The town is identified for significant growth with 6,000 more homes planned or under construction.
Thetford has excellent road communication to Cambridge situated 34 miles to the south west and to Norwich situated 31 miles to the north east via the A14 and A11 dual carriageways.
Thetford is located approximately 88 miles north-east of London with an approx. travel time of 1 hr 40 min via the A11 and M11.  On an average day there are 53 trains travelling from Thetford to London, the fastest route taking approximately 2 hours.
The Keystone Enterprise  Factory is situated within the Brunel Way Industrial Estate off the A1066, approximately one mile north west of Thetford town centre.  Brunel Way Industrial Estate is an established commercial location supporting a wide range of manufacturing, warehouse,  storage and office users.
ACCOMMODATION AND DESCRIPTION
The Keystone Enterprise Factory is a commercial building with car parking within secure site boundary fencing.  All offices and workshop units have access controlled through the use of key cards. The building is accessed 24 hours, seven days a week.
The ground floor comprises approximately 20,354 sq ft GIA and provides a reception, office accommodation, workshops, secure storage, kitchen and WC's.
The first floor of approximately 1,553 sq ft is used as offices and there are WC's.
Steel framed building, beneath an insulated metal profiled roof, with brick and metal profiled walling.
The property is operated as a multi let enterprise centre providing short and longer term accommodation to start ups, established companies and community organisations.
FLOOR AREAS
 The building is sub-divided into a number of separate units with internal, non-structural walling.  Areas for individual units are included in the Tenancy Schedule overleaf.
 The property has been measured in accordance with the guidelines as set out in the RICS Code of Measuring Practice (6th Edition), and comprises the following approximate gross internal areas (GIA):-
| | | |
| --- | --- | --- |
| Ground Floor: | 20,354 sq ft | 1,891 sq m |
| | | |
| | | |
| First Floor: | 1,553 sq ft | 144.3 sq m |
|   | | |
| TOTAL | 21,907 sq ft | 2,035.3 sq m |
RENTAL SUMMARY
1
Current rental income

(once leases to Keystone Trust completed)

Approx

£83,160 pax

2
As above in 1, plus potential rental income assuming fully let at ERV's.
Approx

£90,000 pax
The Keystone Development Trust will enter into new lease 3 year leases outside the Act from completion of the investment sale on Unit 2, at a rent of £5,145 pax and on Unit 4, at a rent of £12,315 pax.  Draft leases are available upon request.
PROPOSAL
We are instructed to seek offers in excess of £895,000 (Eight Hundred and Ninety Five Thousand Pounds), subject to contract and exclusive of VAT for the freehold interest.
A purchase at this level at the current rental income of approximately £83,160 pax would reflect a net initial yield of approximately 8.70% assuming purchaser's costs of 6.8%.
If the Keystone Enterprise Factory is fully let based on our estimated rental value at approximately £90,000 pax, then the net initial yield increases to approximately 9.42% net of costs.
ANTI MONEY LAUNDERING
In accordance with Anti Money Laundering Legislation, the purchaser will be required to provide proof of identity and address and demonstrate the source of funds to the selling agents prior to solicitors being instructed.
COSTS
Each party to be responsible for their own surveyor and legal costs incurred in the transaction.
Plans